Fast Safe Drive-Away Times Now Up To 50% Faster
Product Announcement from Dow Automotive Systems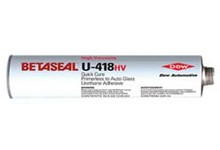 The fast safe drive-away times of Dow Automotive Systems' industry-leading BETASEAL™ U-400HV and BETASEAL™ U-418HV conventional cure, glass-bonding adhesives, are now 25 to 50 percent faster, depending upon temperature and humidity conditions. Our product safe drive-way times:
Return vehicles to your customers more quickly
Increase your daily production
Make your life easier, with less risk and more profitable
Help your glass shops be AGRSS-compliant
Dow Automotive provides extensive product training, literature and technical support to all installers. Contact your local Dow Automotive representative or call 800-453-3779 to schedule a Fixed Glass Installation Training Session.
---