MOR-AD™ and BETAMELT™ Interior Bonding Solutions
Product Announcement from Dow Automotive Systems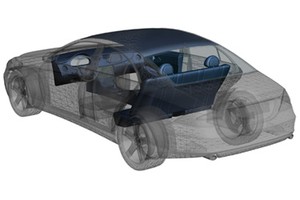 The increasing demand for more comfort, quality and appeal in the automotive interior segments as well as economical and environmental aspects are the key drivers to replace current material offerings with e.g. new textiles, fabrics or new décor film solutions. These new and difficult to bond materials require advanced adhesive assembly technologies to enable customers to meet current and future interior automotive specifications Providing a tailor made product range of bonding solutions for interior lamination and trim assembly applications, MOR-AD™ & BETAMELT™ reactive hot melt adhesives can help to join a vast range and difficult to bond substrate combinations, improve the joint performance and optimize processing steps.
Applications
MOR-AD™ and BETAMELT™ adhesives can be used to simplify and optimize process steps, while meeting stringent EH&S requirements in the automotive interior segment.
Instrument Panels
Water Shedders
Load Floors
Liftgate trim
Sun Visors
Door Panels
Glove Boxes
Seating
Headliner
Consoles
Application Methods
Various application methods depending on product technology ( cartridge, roll coater, swirl, spray,...). Technical Service and Development is offered to assure proper application techniques.
Product Benefits
Excellent adhesion performance
No surface pre-treatment on PP & TPO substrates
Improved Heat Resistance
Broader range of properties
Excellent Ageing Performance
Low Fogging - Emission
NMP free
DBTDL free
Isocyanate free
Solvent free
Products
MOR-AD™ Interior lamination adhesives
Water-based Adhesives
Solvent-based Adhesives
BETAMELT™ Interior assembly adhesives
Reactive Urethane Hot Melt Adhesives
Reactive Olefin Hot Melt Adhesives
Dow cleaning solutions
BETAMELT M™
BETAMELT MW™
MOR-AD Cleaner DN1
---