Celebrating 75 Years of PU Chemistry
Product Announcement from Dow Polyurethanes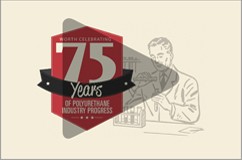 It was 75 years ago that scientists took the first step in polyurethane chemistry and, from that moment on, the industry has moved the world forward with innovations that have made our lives more comfortable and more energy efficient.
Dow Polyurethanes is proud to have been a part of that history and continues to develop innovative solutions that help keep our customers a step ahead of ever-changing industry requirements.
Celebrate with us by watching this tribute to our industry.
---