Product Announcement from Dow Water & Process Solutions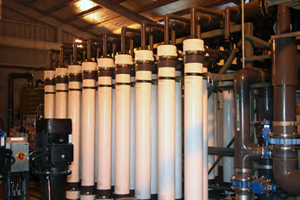 DOW ™ Ultrafiltration and DOW FILMTEC™ Reverse Osmosis membranes enable recovery of 2.4MLD of coal seam gas water to be treated to irrigation and dust suppression water quality standard.
Purpose
Coal seam gas (CSG) refers to naturally occurring gas trapped in underground coal seams by water and ground pressure. The water, which is under pressure from the rock material above, holds the gas in place—when the water pressure is reduced, the gas is released. In the extraction process, the water pressure is reduced when a well is drilled into a coal seam and the water is gradually pumped out of the seam. This allows the gas to flow to the surface in the well. The produced gas is an important source of energy, while the treatment of extracted water represents a separate challenge.
CSG water has usually been underground, between layers of solid rock for a long time with very little fresh water penetration. As a result, the water has gradually acquired some of the chemical properties of its surroundings. CSG waters are characterized by high bicarbonate, high sodium, low calcium, low magnesium, and very low sulphate concentrations. Depending on the nature of the coal seam, chloride concentrations may also be high. Of the dissolved salts present in the water, sodium is the most prevalent. This has specific implications where the water is destined for agricultural use. High levels of sodium can affect drainage, damage soil structure and potentially increase susceptibility to erosion.
You have successfully added from to your part list.
---