ONLINE MBA Anywhere
Service Detail from Drexel University Online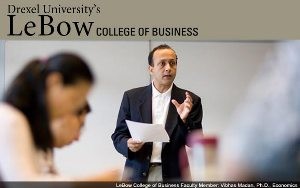 Gain the credentials and experience needed for career advancement
Recognized by Financial Times, U.S. News & World Report and Entrepreneur for superior programs, Drexel University's LeBow College of Business offers a unique online program that offers the opportunity to earn an AACSB accredited MBA in only 24 months.
MBA Anywhere™ Curriculum
Drexel's online MBA curriculum is a comprehensive program that emphasizes business practices alongside leadership and ethics, technological infrastructure, and industry perspectives. Students tailor their academic experience to their personal career interests by selecting from one of four concentrations (shown below) and have the opportunity to enroll in the Flexi-core option that features courses from LeBow's 5 Centers of Excellence.
Marketing Concentration
Finance Concentration
Entrepreneurship Concentration
Business Analytics Concentration
Students learn to think strategically from Drexel's world-renowned faculty. They master the fundamentals of business, identify leadership strengths and immediately apply the essentials of the curriculum to job performance. The curriculum integrates leadership and ethics, and management of technology and industry perspectives. The MBA Anywhere offers the option to specialize in Engineering Management or Entrepreneurship, allowing students to take a cohesive, more specialized set of courses supporting their individual career interests.
This program optimizes your leadership potential in a 24-month, part-time, cohort format, along with the flexibility of online delivery. The cohorted format provides students with the opportunity to progress through the program with the same group. This feature allows students to develop meaningful relationships with fellow classmates and lay the foundation for what is essentially a learning community.
Key Program Features
A distinguished MBA degree. With the academic rigor and recognition of the LeBow College of Business at Drexel University, one of the leading academic and research institutions in the US. Accredited by AACSB International, the highest accreditation for U.S. Business Schools. The College has an outstanding reputation for leadership, corporate partnerships, technological strengths, and flexibility to meet the demands of today's business world.
Outstanding faculty. Internationally renowned faculty members at Drexel University's LeBow College of Business are among the world's most highly read and respected business educators. Pioneers as well as educators, faculty members incorporate the latest business and technological advances in course delivery. Professors are experts in their fields and have industry knowledge that enables them to blend the academic and real worlds.
Career oriented curriculum. The program's curriculum (60 credits - 20 courses) shapes talented professionals who are prepared to think strategically, step into leadership roles, and make sound decisions.
Highly interactive, eLearning system engages students. Small class sizes of 20 to 25 students enhance opportunities for interaction among peers and with instructors who are committed to their students' success.
Three on-site seminars. This program features three on-site seminars, located on Drexel's campus in Philadelphia, also known as residencies. The on-site seminars are three to four-day, intensive courses that are exclusive to the MBA Anywhere program and highlight the importance of social interaction in the learning process.
Drexel Network Alumni Scholarships - Alumni merit-based scholarships for qualified candidates.
---