ONLINE Master of Science in Health Informatics
Service Detail from Drexel University Online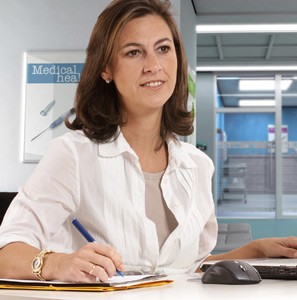 The demand for workers who understand the relationship between healthcare and information systems is growing rapidly.
The MSHI program focuses on the systems of informatics and psycho-social aspects of the healthcare industry. The program provides students from diverse academic and professional backgrounds with the knowledge and skills to use information and knowledge processing methodology to improve health outcomes in a variety settings, including medicine, public health, nursing, and academia. Students graduate with an extensive understanding of both information systems and healthcare that complements their prior education and experiences.
This interdisciplinary program is housed at The iSchool at Drexel, College of Information Science and Technology, and receives curricular support from Drexel University's College of Nursing and Health Professions.
Features and Benefits:
Articulate the ways in which data, information and knowledge are generated and used to solve healthcare problems across diverse settings, from individual patients to universal public health issues
Develop and apply contemporary information science theories and methods toward the generation, management and sharing of biomedical data
Implement, adapt, and validate existing informatics concepts and approaches as they relate to specific biomedical and healthcare problems
Employ concepts and techniques from the social, behavioral, communications and organizational sciences to develop information systems that solve substantial issues in biomedical and healthcare administration
Utilize principles from ethics, law and socio-economic policy that improve patient care
Work collaboratively across disciplines to define, discuss, and resolve key issues in healthcare informatics
Graduates of the program have found their degrees to be highly valued credentials. Many have advanced within their present organizations, while others have accepted responsibilities with new employers or gone on to found their own businesses.
The program consists of 45 credits (15 graduate courses) with a program completion date of at most seven years. You stay focused and on track. It also adds convenience;you can take a term off during a busy period at work without undermining your momentum toward a degree.
---