DuPont™ Krytox® Oils and Greases
Product Announcement from Krytox™ Performance Lubricants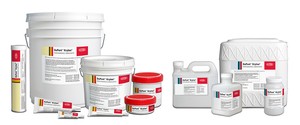 Krytox® oils and greases offer a unique combination of properties that provide exceptional performance, with solutions to your most challenging problems. Compared with other lubricants, only Krytox® oils and greases combine high-temperature performance, nonflammability, and chemical inertness under a wide range of conditions. Krytox® oils and greases increase the service life of critical components, allowing equipment manufacturers to extend warranties and manufacturing plants to reduce costly maintenance, while improving productivity by reducing component failure. They can be a significant contributor to lowering the cost of doing business.
Krytox® oils and greases provide superior protection and load-carrying ability under the most severe conditions. They are particularly well suited for use in 100% liquid or gaseous oxygen service, and are effective at temperatures as hot as 750°F (399°C) and as cold as -60°F (-51°C). From the aggressive world of chemical processing, to the high temperatures in state-of-the art automotive applications, to the critical tolerances of aerospace military specs, and in many other demanding industries, Krytox® oils and greases are becoming the lubricants of choice worldwide.
You have successfully added from to your part list.
---