DuPont™ Nap-Gard® Epoxy Powder Coatings
Product Announcement from DuPont Performance Coatings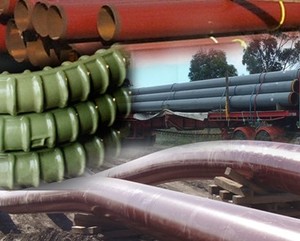 NAP-GARD® FBE for internal and external pipe
NAP-GARD® FBE for rebar for concrete structures and bridges
NAP-GARD® FBE for valve products used in the most demanding environments such as wastewater and saltwater
NAP-GARD® product lines include:
Single layer systems

7-2500, 7-2501, 7-2508, 7-2534, 7-2514EN Series, 7-2555

Dual layer systems

NAP-GARD® 7-2555 & 7-2675 ORANGE HIGH TEMP DUAL POWDER SYSTEM
NAP-GARD® 7-2502NS/7-2608NS NON SLIP-DUAL POWDER SYSTEMS

This non-slip coating provides additional shear slip resistance
to concrete coated pipe used for negative buoyancy in
offshore installations.

NAP-GARD® 7-2504 GOLD DUAL POWDER SYSTEM

The system combines the tenacious adhesion of NAP-GARD®
base coat with the water penetration resistance of the "Modified"
NAP-GARD® 7-2504 Gold.

NAP-GARD® 7-2610 NAP-ROCK DUAL POWDER SYSTEMS

This superior thermosetting system is designed to provide
excellent damage resistance to pipelines in the toughest
environments including river crossing, road crossings and rocky mountainous terrain.

Three layer

DDN - Consists of a DuPont Primer (Nap-GardÒ) which has over twenty-four (24) years of corrosion protection service, coupled with NOVA Chemicals high/medium density polyethylene (Sclair or Novapol ) with over 25 years service and chemically joined by DuPont's grafted adhesives (FusabondÒ) with 13 years service; the DDN system offers the best choice for high quality, low maintenance and best value-protective coating globally.

Internal systems

NAP-GARD® 7-0008 Internal Pipe Coating
NAP-GARD® 7-0010 Internal Pipe Coating
Nap-Gard® 70017 internal Pipe Coating
You have successfully added from to your part list.
---