Product Announcement from Duncan Instruments Canada, Ltd.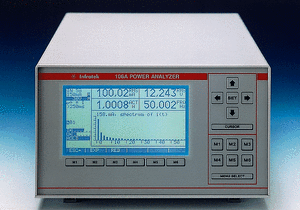 Duncan Instruments' Model 106A is a state of the art high performance power analyzer available in single phase and three phase versions. The 106A is designed to cope with the extreme signals generated on frequency inverter drivers. Readings are precise and reliable independent of the complexity of the waveform. The large and bright LCD monitor provides customer configurable numerical and waveform displays.
Large and bright display for up to 10 values
Scope function, Trend Plots
Harmonics 1-60, Bar Charts
DC-300kHz, 15mA-40A, 0.3V- 1000V
0.1 % or 0.05% accuracy
Available options include:
RS232 / IEEE488 / Printer interfaces
Analog inputs and outputs
Current sensor modules
NI LabView driver
NI LabView based operating software
Motor testing software
Duncan Instruments Canada Ltd. has been specializing in electronic measurement solutions since 1968.
Duncan Instruments product selection
Some of our most popular products.
If you cannot find what you are looking for, please contact us with your request.
Repair and calibration SERVICES
Every test intrument requires periodic maintenace. Our Service Department consist of a Calibration Laboratory and a fully equipped repair shop. Our experienced personnel with extensive documentation library, in-house spare parts inventory and computerized replacement parts data base will restore your instruments to "as new" condition. Our Calibration Laboratory, located in a dedicated environmentally controlled area, is ISO9001 : 2008 registered. We offer certification service to suit your QMS programme. We can calibrate your instrument in 48 hours if required.
All of this to provide you with top quality, reliable and fast service when you need it.
Why Rent? Pay for what you want & for how long you need it!. Review our list of available rental instruments for which one fits your application:
You have successfully added from to your part list.
---