Solar Tracker Motor (STM) by Dunkermotor
Product Announcement from Dunkermotoren - USA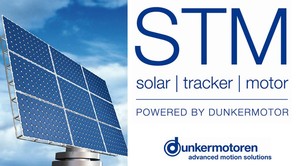 Elgin, IL. Dunkermotor recently introduced additional models to its STM line of Solar Tracker Motors. With more than 20 years of experience in the solar tracking industry, and with more than 150,000 units in the field, Dunkermotor is the largest supplier of motion solutions to the renewable energy sector.
STM solutions by Dunkermotor provide up to 500ft.lb of peak torque, ratios up to 2000:1, self-locking or backdriveable designs, with small and compact footprints and great efficiencies.
Thanks to Dunkermotor's modular system the STM solutions are smart, connectable to Modbus, CANopen, Profibus or Ethercat and are economical. They also offer a maintenance-free design yielding the lowest total cost of ownership.
· Perfected for tracking systems
· Smart and connected
· Maintenance-free for life
· Economical
· Offer lowest total cost of ownership
Dunkermotoren USA is the North American sales, technical support and logistics subsidiary of Dunkermotoren GmbH, a 60-year-old leading global supplier of fractional horsepower electric motors, gearmotors and controls. With headquarters in Germany and production and/or logistics facilities in Europe, Asia and the U.S., Dunkermotoren produced over 3 million motors in 2010 for the factory and commercial automation, medical, semiconductor, solar tracking, and packaging industries.
---