Product Announcement from Dura-Belt, Inc.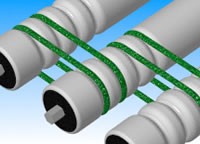 Abuse Resistant HT Rough Green Belts
Four groove powered rollers are made by Holjeron. Itoh Denki makes two groove end caps that can provide an additional 2 grooves/roller. Ralphs-Pugh makes 4 groove idlers.
Abuse Resistant, HT Rough Green Belts
Jammed boxes will bring slave rollers and belts to a halt. As soon as a sensor detects a jam, the PLC must turn off its powered roller quickly -- within 4 seconds. Otherwise, the powered roller will continue to turn under the jammed box, forcing the belts to slip and overheat. Such abuse will cause premature belt failure.

Smooth belts have a high coefficient of friction (COF), so when forced to slip, they heat up and abrade or melt. Rough green belts have a low COF that lets them slip easier with less heat build up, so they can take more abuse. The trade off is that they slip too soon, so they cannot move heavy boxes like smooth belts. We recommend rough green belts in applications where boxes are light to moderate weight, and where PLC's are set to power through jams -- or where there are no sensors to detect jams.


Abuse Resistant 5mm HT Rough Green belt 88A For boxes up to 60 lbs (7 lbs/roller max). Stretch 16%.
Abuse Resistant 6mm HT Rough Green belt 88A For boxes up to 70 lbs (8 lbs/roller max). These belts will stick up above regular grooves, causing boxes to skew. They are used on curves that have tapered sleeves which elevate boxes enough so they do not touch the belts. Stretch 16%.
For the best in urethane belts, conveyor belting, and other conveyor belts and conveyor components, insist on DuraBelt.
Our company was formed in Ohio in 1987 to sell urethane belts to distributors, installers, and OEMs. In 1991 the company was purchased by Jim Hammond, a physicist who worked at Jet Propulsion Labs and was Director of Technology at Atlantic Richfield Corp (ARCO). Mr. Hammond's goal was to bring high technology to the relatively low tech belting business, including a quality control system that was a forerunner of ISO 9000. Within a year the company's name was changed to DuraBelt to reflect the development of two new proprietary products, a Super-Strong welding process and a more resilient urethane (Cyclothane-A).
In 1994 DuraBelt introduced the "World's Longest Belt Warranty". To the best of our knowledge, it still remains as the longest, fixed-duration, written belt warranty for urethane belting in the world - two full years.
Over the years DuraBelt has developed many new products, including a proprietary color process for coloring belts after being spliced, anti-snag flat belts, anti vibration belts, Long-Life HT (High Tension) belts made from Cyclothane-B, the patented Speedy Belt Installer, Jacketed Spring Belts that work in most harsh environments, and metal detectable elastic food-grade belts. The company regularly introduces new products, most of which are inspired by its customers with whom it works closely.
DuraBelt owns a state-of-the-art plant in Hilliard, Ohio that was built in 1995 and designed especially to provide urethane belting and other accessory products for conveyors. When running three shifts with the equivalent of 48 employees, DuraBelt has the production capacity to produce approximately 60,000 O-ring belts per day.
DuraBelt's products are sold world wide and touch the life of virtually everyone. Most consumer goods, including food and mail, have a good chance of being conveyed at one time or another with belts made by DuraBelt.
DuraBelt's mission is to produce innovative, high-quality products and sell them at a fair profit, while providing the fastest, friendliest service in a healthy environment.
Specialty Belts:
Anti-Static Belts Static Dissipative Belting
ConveyXonicTM Poly-V® Conveyor Belts
High Temperature Belting (Heat Resistant Belts)
Low Temperature Belting (Cold Resistant Belts)
Acid Resistant Belts & Acid Proof Belting
Caustic Alkali Base Resistant Belts (Bleach Proof Belting)
Oil & Goo Resistant Non-Slip Belts (Slip Resistant Belting)
Non-Slip, Anti-Slip Belt Sleeves for Dusty or Wet Conveyors & Pulleys
Jacketed Spring Beltsfor Harsh Environments
Pulleys & Wheels:
Round Idler Pulley and Round Drive Sheave Sizes
Twin Idler Pulley & Drive Pulley (Double Sheave)
V Idler Pulley and Vee Drive Sheave Sizes
Flat Idler Pulley and Flat Drive Pulley (Sheave) Sizes
Drive Pulley Adapters for Reinforced Nylon Round, Flat, and V Pulleys
Drive Pulleys and Sheaves Zinc V Pulleys
Spools:
Lineshaft Spools & C-Clips (Shaft Collars, Snap-Rings)
Split Spools for Line Shaft Conveyors
Conveyor Roller Sleeve Spacers (Spacer Sleeves)
Tools:
Urethane Belts:
Round Belts (Round Belting)
Lineshaft Conveyor Belts (Shaft Driven Belt)
Powered Roller Belts Long Life HT (High Tension) Belts
Rough Green Round Belting and Belts
Urethane V-Belts (Plastic Vee Belting)
Conveyor Roller Sleeve Spacers (Spacer Sleeves)
Flat Belting and Belts move heavy loads
Groove Sleeves for Sheaves & Pulleys
Extruded Urethane Cord Profiles
Urethane Springs, Slings,Hold Down Clips, Schlingen
Postal Auger Belts (Post Office Belts)
You have successfully added from to your part list.
---