Product Announcement from DSTI - Dynamic Sealing Technologies, Inc.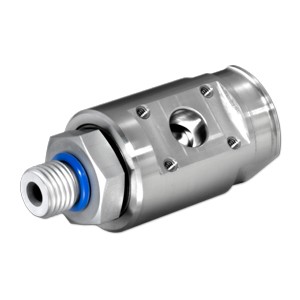 NASA's final mission of space shuttle Atlantis transported a unique robotic satellite refueling system that integrates specialized rotary unions engineered by DSTI.

In 2010, when the space agency needed a fluid transfer solution for an in-orbital refueling system, DSTI proposed a design for a compact rotary union that met the challenge.

With the need for an exceptionally small design, the final solution resulted in specialized components and seals suitable for a microgravity environment featuring a smooth-bore custom O-ring interface.

After months of vibration and thermal testing, the refueling system team was excited to report the performance success they wanted, adding another critical project to the hundreds of unique challenges DSTI has taken on.

Retiring NASA's 30-year space shuttle program in July, this final mission aims to reduce risks and lay the foundation for future robotic servicing for extending the life of satellites orbiting Earth.

About Robotic Refueling Mission --

The Robotic Refueling Mission (RRM) is an experimental project designed to demonstrate in-orbit robotic refueling technology and techniques via remote-control. For more information on RRM please visit http://www.nasa.gov/mission_pages/station/research/experiments/RRM.html

About DSTI --

Dynamic Sealing Technologies, Inc. (DSTI) specializes in the design, manufacture and integration of DSTI rotary unions and rotating joints worldwide. DSTI's rotary unions are used to distribute a variety of fluids from a stationary inlet to rotating equipment. The company offers a full line of standard products for a wide variety of applications, as well as complete, specialized rotary union design and manufacturing services.

For more information, please call 763.786.3758 or email info@dsti.com, or visit www.dsti.com.
You have successfully added from to your part list.
---