Product Announcement from DSTI - Dynamic Sealing Technologies, Inc.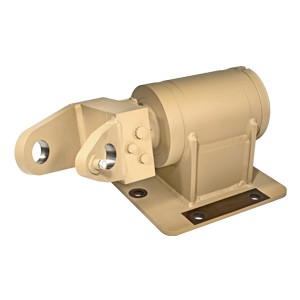 3 passage DSTI rotary union designed for a military hydraulic system application. Features include a rugged specialized design for a high vibration environment and a mounting configuration for integration into customer equipment.
DSTI was recognized for its development of specialized rotary unions designed for next-generation Mine Roller (MR) Systems used by Armed Forces in Iraq and Afghanistan.
The vehicle-mounted MR Systems are designed to detonate pressure-activated mines and improvised explosive devices (IEDs), while providing protection coverage for the host vehicle.
Early generation MR Systems have been credited with saving more than 100 lives of military soldiers.
The specialized DSTI rotary unions are designed to provide hydraulics to the system while withstanding high shock, vibration, and extreme mechanical stress.
Sgt. 1st Class David Kauppi proudly presented the American flag that was flown at the Radwaniyah Palace Complex in Baghdad, Iraq during January 2008 on behalf of the 849th Mobility Augmentation Company (MAC).
The 849th MAC's primary duties were to provide security, clearance and protection for leadership and Special Forces.
"We are honored to receive this on behalf of our team who designed and manufactured this critical component", said Troy Land, Director of Operations for DSTI. "It's engineering projects like this, that give us great pride in the work that we do."
Full article:
http://www.dsti.com/company/news/articles/index.php?release_link=us-army-sgt-presents-flag-to-dsti-for-military-protection-innovation
You have successfully added from to your part list.
---