Product Announcement from Dynapar Corp.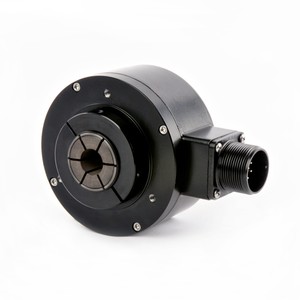 Dynapar's HS35R incorporates numerous design upgrades to increase reliability and maximize equipment uptime. Noteworthy features include a 400g shock rating, optional -40 to +100C temperature range, and an unbreakable code disc-all at no additional cost over the previous model. The new encoder is also RoHS and CE compliant.
Phased-Array Sensing
At the heart of the redesign is the company's proven phased array sensing module. The introduction of this ASIC (Application-Specific Integrated Circuit) provides numerous improvements over the traditional design. Most notable is the wider gap it provides between sensor and disc, up to ten times that of a traditional mask-on-sensor design. The result is a more forgiving arrangement that helps eliminate disc crashes. Another benefit to using phased-array technology is the reduction of components on the PCB (Printed Circuit Board). Since the ASIC eliminates many board-level components, service life is greatly improved. In addition, quadrature and symmetry functions are set at the chip level, eliminating the need for external trimpots that can cause signal drift over time or temperature extremes.
No More Glass
A welcome feature for many customers is the elimination of the glass disc from the design. Although glass discs provide a "clean" light path for good sensor reception, they are prone to break when subjected to higher shock or vibration that is common in many motor applications. Instead, rigid plastic is used in place of glass that provides high resolution capability up to 5000PPR and allows an operating temperature range from -40 to +100C. This is especially important when mounted to a vector-duty motor that can see elevated temperatures in normal operation. The elimination of glass also helps the encoder boast its 400g shock rating and survive punishing HALT evaluation (Highly Accelerated Life Testing) without a hard failure.
Mechanical Design
Bearing structure on the HS35R was a major consideration during development. Larger bearings are employed for greater load capability and longer life, but more importantly the bearing securing method was redesigned as well. Traditional encoders use adhesive to secure the bearings to the shaft hub, but this process is very operator dependent and adhesive can fail in applications where oscillatory loading or vibration is present. Instead, the HS35R uses "captured" bearings with retaining bolts that improves manufacturability and resistance to run-out. The bearings are captured through a heating & cooling process of the encoder base during assembly.
In common applications, vector-duty motors can suffer eddy current buildup on the rotor when used with high frequency drives, and grounding through the hollow-shaft encoder will shorten encoder bearing life. To combat this, the HS35R features electrical and thermal isolation on the shaft hub using composite materials.
Environmental Protection
As with any piece of rotating equipment, sealing is critical if the unit is to be placed in less-than-ideal environments. Lubricated, face-riding shaft seals with protective covers are now employed in favor of stationary lip-contact seals for improved moisture resistance. The housing cover utilizes a compression and o-ring seal arrangement for increased protection, and the assembly screws holding the unit together are placed outside of the seals to eliminate additional ingress points. Adding to the encoder's IP67 rating, a standard hard anodized and powder-coated finish is included to enhance durability.
Compatibility
Electrically the HS35R was designed with field retrofit in mind. Therefore, the new unit features similar voltage input and line driver output choices as the previous HS35. Connection options are also similar, employing popular MS, M12, and new Bayonet-style connectors. This allows existing customers to re-use cable assemblies already installed in the field. A sealed cable output is also available in a variety of standard lengths. Physically, the new encoder has slightly larger external dimensions in order to accommodate the larger, more rugged bearing structure.
Availability
As with its predecessor, the HS35R is built to order and available for the general market in January, 2010. The company will be phasing in the various configurations over the course of the year, running alongside the previous HS35. Dynapar expects the transition to be complete by late 2010. The HS35R will be marketed under the Dynapar brand name and will be manufactured in the company's Gurnee, IL manufacturing facility. For new or existing applications and volume pricing, contact a Dynapar representative at 800-873-8731 or visit the web at www.dynapar.com/HS35R for specifications and technical information.
You have successfully added from to your part list.
---