Miniature Bearing Manufacturing
Product Announcement from Dynaroll Corporation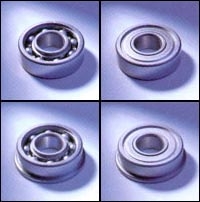 Miniature Bearings - Dynaroll Corporation was founded in 1988 and has become one of the world's largest independent suppliers for miniature bearings to the automotive, medical, aerospace and other high-precision industries. Miniature bearings Manufacturing facilities in San Fernando, California and Kuala Lumpur, Malaysia.
Miniature Bearing Manufacturing - Ball Bearing Overview.
For miniature bearings, single-row deep groove radial ball bearings are the most common type of miniature bearings, having a wide range of suitable applications. The raceway grooves on both inner and outer rings have circular arcs of slightly larger radius than that of the balls. In addition to radial loads, axial loads can be applied in either direction. Because of their low torque, they offer high speed operation with low power loss. miniature bearings and instrument radial ball bearings are made with very high levels of precision, therefore these are generally used in applications where accurate rotational performance and low torque is necessary, and load capacity is a secondary issue.
---