Precision Bearings in Surgical Robotics
Product Announcement from Dynaroll Corporation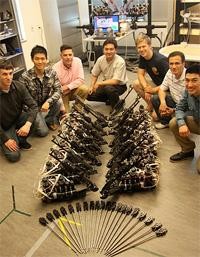 Medical research labs at Harvard, Johns Hopkins, University of Nebraska, UC Berkley and UCLA are benefiting from Raven II surgical robots using Dynaroll's bearings in the systems and instruments.
Raven II, used for minimally invasive surgery, includes two robotic arms, a camera for viewing the operational field, and a surgeon-interface system for operating the robot remotely. The system is capable of supporting research on advanced robotic surgery techniques, including online telesurgery.
The unique thing about these systems is that they are based on an open-source model in order to accelerate the field of robotic research. It is advantageous for the separate laboratories to work on a common platform because it will make it easier for researchers to share software, replicate experiments, and further collaboration.
Dynaroll was chosen as the provider of miniature bearings for the robotic systems & joints and instruments because of their extensive experience in the field of surgical robotics.
Dynaroll's certifications include ISO 9001:2008 · ISO 13485:2003 · ISO 14001:2004 · OSHAS 18001:2007 · PPAP · FDA CRITICAL
See the Applications Gallery showing precision custom bearing assemblies developed by Dynaroll.
Or access technical information about
---