Precision Eccentric Shaft Assemblies for Medical
Product Announcement from Dynaroll Corporation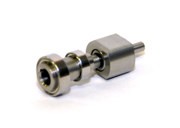 Vertically-integrated manufacturing provides economical solutions to precision bearing-based subassembly needs. Whether your objective is low cost or high performance, you can save money and time by having Dynaroll manufacture your bearing subassemblies.
High Precision Tight Tolerance - High Accuracy Flow - Stainless Steel Shafts and Bearings
Applications include:
*Medical and Diagnostic Devices
*Test Equipment
*Infusion Pumps
*Peristaltic Pumps
*Flow Meters
Dynaroll offers rapid prototyping (Sterolithography) design services as well as production volumes ranging from small batches to very high quantities. 100% inspection and 100% testing of all parts is available. Dynaroll is ISO 9001:2008 approved and is a supplier to FDA-critical and PPAP standards.
Use these links to learn more
Assemblies Overview
Applications
Assembly & Manufacturing
Quality Systems
Capabilities
---