Radial Ball Bearings - Industrial
Product Announcement from Dynaroll Corporation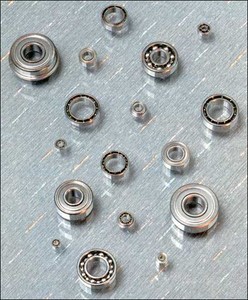 For radial ball bearings, single-row deep groove radial ball bearings are the most common type of radial ball bearings, having a wide range of suitable applications. The raceway grooves on both inner and outer rings have circular arcs of slightly larger radius than that of the balls. In addition to radial loads, axial loads can be applied in either direction. Because of their low torque, they offer high speed operation with low power loss. Radial ball bearings and instrument radial ball bearings are made with very high levels of precision, therefore these are generally used in applications where accurate rotational performance and low torque is necessary, and load capacity is a secondary issue.

Radial Ball Bearing - Tables
The ball bearings listed in these ball bearing tables are available in a variety of different grades. As discussed, ABEC and ISO standards only cover part of the overall picture for ball bearings, particularly for more demanding applications. Beyond the basic dimensions and tolerances of ball bearings, characteristics such as raceway finish, cage quality, ball matching and consistency of internal geometry can affect the performance of an individual bearing in its application. These characteristics are generally determined by the level of sophistication of the equipment used to manufacture the ball bearings. This sophistication, in turn, affects the cost and availability of the bearing.
All Dynaroll bearings are guaranteed to meet stated performance specifications, and bearing quality is monitored according to ISO 9000 quality standards.It is recommended that demanding applications for ball bearings are discussed with a bearing engineer at Dynaroll.
Visit our website via the link on the right for in depth data, drawings and information and please e mail us with your inquiries
---