Smaller & Thinner than a Dime
Product Announcement from Dynaroll Corporation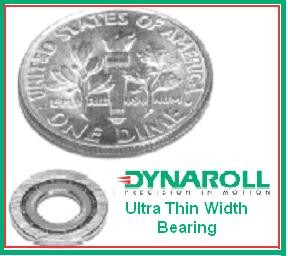 This ULTRA THIN high precision ball bearing has a width of only .785mm (.031in). It is the thinnest bearing of its type available and allows the design engineer considerable freedom in applications where space is at a premium.
ASSEMBLY APPLICATIONS
Ultra-thin Motors
Pancake Resolvers
Biomedical Assemblies
Semiconductor Equipment
BEARING BENEFITS
1/2 the thickness of any other Ball Bearing this size
Preloaded Pivot Assembly with 2 bearings just over 1/16"
Available in both Stainless and Chrome Steel
Visit our website or contact a Dynaroll Bearing Engineer via the links on the left for more details
---