10 Reasons Designers Use Checkball Hydraulic Pumps
Product Announcement from Dynex/Rivett Inc.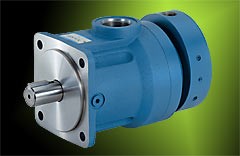 Checkball hydraulic pumps use two check valves in each piston pumping chamber to direct flow from the inlet side of the pump to the pump outlet port. This design provides consistently longer service life than other pump designs, especially operating at high pressures, with low-viscosity, low-lubricity fluids.
Here are ten operating parameters that machine designers consider when deciding to use checkball pumps for their hydraulic systems:
1 PRESSURES TO 20 000 PSI: Pumps operate at high pressure and extreme temperatures. Positive-seating check valves provide better wear and higher volumetric efficiency, especially with low-lubricity fluids.
2 WIDE RANGE OF FLUID COMPATIBILITY: Pumps operate reliably with low-lubricity, low-viscosity fluids. The checkball design, with a rotating bearing plate, reduces internal loading for lower starting torque and long-life operation.
3 NO LUBRICATING OIL REQUIRED: With a single-fluid design, only the pumped fluid is required for internal lubrication, eliminating the cost of a secondary lubrication circuit and regular maintenance. Cross-fluid system contamination is also avoided.
4 MULTIPLE FUNCTION CIRCUITS SIMPLIFIED: Multiple-pump circuits can be simplified using only one Split-Flow® pump with multiple outlets. These pumps provide greater output flow accuracy than flow dividers for synchronized movement.
5 CONTAMINATION TOLERANT: Checkball pumps operating in dirty environments are more resistant to
contamination failure than other pump designs. A large path into pistons and output through durable outlet check valves allows contaminants to be flushed through the pump.
6 RESISTANT TO CAVITATION DAMAGE: Air inadvertently entering the system or starving the inlet flow can cause other pump designs to quickly fail. Decompression shock in checkball pumps is reduced, because outlet checks do not unseat until pumped fluid reaches load pressure.
7 HIGH-HORSEPOWER OUTPUT: Compact pump design provides a high horsepower to weight ratio. Rugged wobble plate keyed to drive shaft and stationary piston barrel handle higher loads than other pump designs.
8 ENERGY SAVING PERFORMANCE: Positive-seating check valves provide higher volumetric efficiency than other pump designs, which require internal leakage. Unlike valve plate design pumps, a drain line is not required.
9 BI-DIRECTIONAL ROTATION: Only one model is required on both ends of double-ended motors or when coupled to reversible engines. Fixed displacement pumps provide constant flow direction regardless of drive shaft rotation.
10 VERTICAL MOUNTING FLEXIBILITY: Unlimited pump orientation provides circuit flexibility. Use of housing bleed port allows vertical mounting and ensures proper internal
lubrication for long life operation.
You have successfully added from to your part list.
You need Flash player 8+ and JavaScript enabled to view the 10 Reasons Designers Use Checkball Hydraulic Pumps video.
Get the Latest Flash player.
---