Hydraulic Checkball Pump Operation - View Video
Product Announcement from Dynex/Rivett Inc.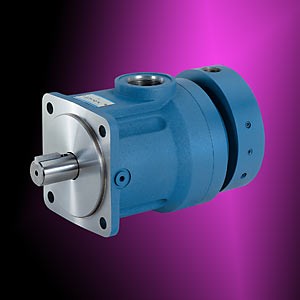 Dynex checkball pumps use two check valves in each piston pumping-chamber to direct flow from the inlet side of the pump to the pump outlet port. Reviewing how these pumps operate can help to understand the benefits of using the pumps, on systems requiring high pressure or using low-lubricity fluids.
The inlet and outlet check valves control flow into and out of the piston pumping-chamber. These valves take the place of a valveplate, commonly used in other piston pump designs. The metal-to-metal, rotating sealing surface in other pumps is an inherent leakage path, subject to wear and scoring with lower lubricity and contaminated fluids.
In checkball pumps, the positive-seating check valves provide better wear and higher volumetric efficiency, especially at high pressures and with low-lubricity fluids. These pumps operate efficiently at pressures to 20,000 psi.
Wobble Plate Rotates with the Drive Shaft
During operation, a fixed angle wobble plate rotates with the drive shaft. Fixed displacement checkball pumps provide constant flow direction regardless of the direction of drive shaft rotation. This can be an advantage when coupled to reversible engines.
The barrel with its piston bores is stationary. The compact design provides a high horsepower-to-weight ratio, allowing the pump to handle higher loads than other similar size pump designs.
The angled surface of the wobble plate imparts a reciprocating motion to the pistons, which move in and out of the bores in the barrel.
Pumping Chamber Filled through the Inlet Check Valve
During its suction stroke, each piston is filled through its inlet check valve. Fluid is drawn by vacuum into the piston pumping-chamber in the barrel. A large path into the piston and output through the outlet check valve allows contaminants to be flushed through the system.
The check valves also isolate the pistons from system pressure during startup, allowing the piston shoes to establish an oil film before pressure is generated. The result is lower starting torque for longer bearing life.
Outlet Check Valve Controls Fluid Output
During compression, the inlet check valve closes and pressure in the pumping chamber rises until it exceeds load pressure at the outlet port. During operation, the checkball rotates, providing a uniform, moving area of wear. The result is high efficiency even as the checkball wears.
When load pressure is reached, the outlet checkball then lifts off its seat and fluid is pumped across the check valve, out of the pumping-chamber. Because the outlet checks do not unseat until the pumped fluid rises to load pressure, this design is inherently resistant to cavitation. Reduced decompression shock contributes to smoother and quieter operation, especially at high speeds and pressures.
The piston outputs are combined in the pump barrel or cover, and then discharged from the pump outlet providing smooth flow to the system.
You have successfully added from to your part list.
You need Flash player 8+ and JavaScript enabled to view the Hydraulic Checkball Pump Operation - View Video video.
Get the Latest Flash player.
---