Hydraulic Power Units for Aerospace Testing
Product Announcement from Dynex/Rivett Inc.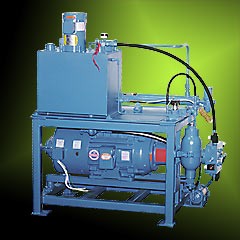 Dynex hydraulic power units provide a solution to test engineers that require exceptional performance in the harsh conditions required for testing of aerospace components. These units use Dynex checkball piston pumps for operation at pressures to 20,000 psi, with a wide range of fluids.
These application-specific fluids often have low-viscosity, low-lubricity characteristics and include Skydrol, Hyjet and other phosphate ester fluids, and various MIL-SPEC fluids.
It is critical that power units for these R&D and production environments operate efficiently and reliably under the same harsh conditions as the test components. To ensure completion of the testing, the pumps on these units typically must withstand high pressure, extreme temperatures, and long duty cycles.
Meeting Customers' Special Requirements
Dynex power units can incorporate customer-specified and supplied components. Parts are also available from our warehouse or are readily available through the Dynex distributor network. A range of hydraulic pumps are available, including checkball pumps with maximum output flows from 0.68 gpm to 54.0 gpm, at 1800 rpm at rated pressures to 15,000 psi, with maximum pressures to 20,000 psi.
Checkball Pumps Advantages
The checkball pump design provides consistently longer service life than other test pump designs. Two check valves in each piston-pumping chamber direct the flow from the inlet side of the pump to the pump outlet port. The stationary barrel and optimum piston/bore clearances facilitate low-leakage.
The increased seating, and sealing, of the checkball valves at higher pressures ensures higher volumetric efficiency, especially with low-viscosity fluids. The checkball rotates and reseats during each pumping cycle, providing even wear for extended pump life and constant volumes. These pumps offer low-noise and low ripple-pressure characteristics, operating with little heat buildup to maintain stable temperatures.
Multiple-Outlet Pumps
The output from each piston in a checkball pump can be isolated from the other pistons. This allows one multiple-outlet pump to supply up to ten output flows, for example, with a ten-piston pump. Test systems use these Split-Flow® models for simultaneous testing of multiple components with only one pump.
Skilled Design and Workmanship
Power unit assembly by skilled technicians includes properly connected high-pressure ports and fittings to ensure safe and trouble-free operation. Correctly sized and routed metal tubing eliminates hose flexing for improved system performance, increased durability and low maintenance.
You have successfully added from to your part list.
---