Series 3133D, Hermetically Sealed Triaxial Accel.
Product Announcement from Dytran Instruments, Inc.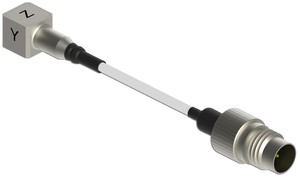 Dytran Instruments has introduced the 3133D series, a family of isolated, ultra miniature hermetically sealed IEPE triaxial accelerometers weighing just 0.8 grams. The 3133D series was designed to mount in space inaccessible to other types of accelerometers.
Series 3133D is characterized by its miniature size which allows it to be mounted in spaces that are inaccessible to other types of triaxial accelerometers. It features a hermetically sealed titanium case to aid in moisture resistance and weighs only 0.8 grams. The Dytran Series 3133D is offered with a sensitivity that ranges from 0.7mV/g to 10mV/g and is designed with adhesive mounting capabilities. It features a permanently mounted 3 ft. long coaxial cable that has a 4-pin connector and is designed to mate with several models of extension cables for connection to IEPE power sources.
In each of the three orthogonal axes, the instruments generate an electrostatic charge mode signal by stressing a "planar shear" type of self generating crystal element. This series has very low mass and high crystal stiffness which allows these instruments to have a resonant frequency greater than 27 kHz. As a result, it can be used to measure high frequency vibrations with very little error. A TEDS version of this series is also available for customers who need plug and play identification.
Unique features of the 3133D series include its low frequency response and low base strain sensitivity. Moreover, series 3133D is ideal for shock and vibration testing of small, lightweight specimens such as printed circuit boards, board-mounted components and other miniature products. It is capable of operating in a variety of application environments including Environmental Stress Screening (ESS), HALT/HASS, modal and structural analysis, product response testing and general purpose triaxial vibration testing.
Visit the 3133D series on the Dytran website.
Download the 3133D series specification sheet.
Click here to learn about Dytran's line of triaxial accelerometers.
About Dytran Instruments, Inc.
Founded in 1980, Dytran Instruments designs and manufactures a full line of piezoelectric and DC MEMS sensors for measurement and monitoring. The company's world class product range includes miniature and triaxial accelerometer models, high temperature sensors with built-in electronics (IEPE), variable capacitance DC sensors with low-noise differential output, and sensors with TEDS capabilities. Dytran also offers a complete range of piezoelectric force and pressure sensors, impulse hammers, support electronics, cables and accessories for dynamic measurements, with full in-house customization capabilities. Since their founding, Dytran sensors have become the industry's most popular choices within a variety of applications, including modal and structural analysis; flight test; HALT/HASS/ESS; Health and Usage Monitoring Systems (HUMS); mechanical impact testing; product testing; vehicle dynamics; and space related applications. The team at Dytran prides itself on its high level of custom responsiveness, as well as its focus on developing and maintaining strong customer relationships. The "people factor" is what continues to make Dytran a success. To learn more, visit http://www.dytran.com.
---