Product Announcement from Dytran Instruments, Inc.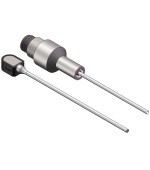 The Dytran model 3224B is an ultra miniature, case isolated IEPE accelerometer weighing just 0.3 grams.
With a height of 0.119 inches (3.02 millimeters) and an ultra miniature teardrop design, the Dytran model 3224B was designed to adhesively mount in spaces inaccessible to other types of accelerometers. Units were also designed to reliably operate in high temperatures up to +300°F (+149°C) and feature a frequency response of 0.32 to 20,000 Hz.
View the data sheet for model 3224B
Available with a 10 mV/g sensitivity, the Dytran model 3224B utilize a shear sensing element in a lightweight laser welded titanium housing, with a three-foot integral cable terminating to a 10-32 jack. The cable is designed to mate with several other Dytran extension cables, including models 6011A and 6011B. Model 3224B is case isolated to avoid EMI/ground loop interference.
Visit the model 3224B on the Dytran website.
Features:
Ultra miniature teardrop design
Weighs 0.3 grams
10 mV/g sensitivity
Broad frequency response
+300°F (+149°C)
Case isolated
IEPE
Applications:
Environmental Stress Screening (ESS)
Mechanical shock
PC board vibration measurements
Product response testing
General purpose vibration measurements where mass loading is a concern
About Dytran Instruments, Inc.
Founded in 1980, Dytran Instruments designs and manufactures a full line of piezoelectric and DC MEMS sensors for measurement and monitoring. The company's world class product range includes miniature and triaxial accelerometer models, high temperature sensors with built-in electronics (IEPE), variable capacitance DC sensors with low-noise differential output, and sensors with TEDS capabilities. Dytran also offers a complete range of piezoelectric force and pressure sensors, impulse hammers, support electronics, cables and accessories for dynamic measurements, with full in-house customization capabilities. Since their founding, Dytran sensors have become the industry's most popular choices within a variety of applications, including modal and structural analysis; flight test; HALT/HASS/ESS; Health and Usage Monitoring Systems (HUMS); mechanical impact testing; product testing; vehicle dynamics; and space related applications. The team at Dytran prides itself on its high level of custom responsiveness, as well as its focus on developing and maintaining strong customer relationships. The "people factor" is what continues to make Dytran a success. To learn more, visit http://www.dytran.com.
You have successfully added from to your part list.
---