MISO Vibration Controller PREMAX MI-8018
Product Announcement from ECON Technologies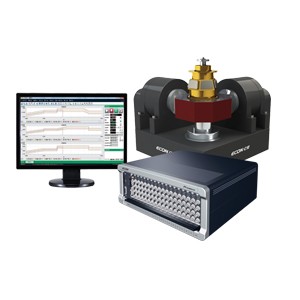 The next generation of vibration controller is now available in ECON for large-scale MIMO (Multiple Input, Multiple Output), MESA (Multiple Exciter, Single Axis) and MEMA (Multiple Exciter, Multiple Axes) control application. It adopts PXI bus structure and multi-DSPs technology to perform powerful and precise control and analysis, just like series of synchronized high performance vibration controller working together without degrading performance of each other.
Features
Up to 64 input channels in a single chasis
Based on PXI bus and real-time operating systems, multi-DSP parallel processing technology, and real-time control
Remote control via Gigabit Ethernet
Re-connect after network fail without missing data
110 dB dynamic range based on 24-bit resolution, 32-bit floating DSP computation, and low noise design
10 Control applications
Control frequency of Random up to 18750 Hz, resolution up to 6400, dynamic range > 90 dB
Main Applications
Random
Sine
Shock
RSTD
Sine on Random (SoR)
Random on Random (RoR)
Sine and Random on Random (SRoR)
Shock Response Spectrum (SRS)
Transient Time History (TTH)
Long Time History for Road Simulation (LTH)
Vibro-Shock
Other Applications (optional)
Waveform Editor
Channel Limit Spectrum Control
Kurtosis Control?Random / ROR)
Step Test?Sine / RSTD)
Harmonic Distortion Detection?Sine / RSTD)
SRS Analysis (Shock / TTH)
Digital I / O interface
Automatically Obtain TEDS Information
Self-calibration
Offline View
MATLAB Interface
You have successfully added from to your part list.
---