Eliminator HD™ Ball Screw Linear Actuators
Product Announcement from Edrive Actuators, Inc.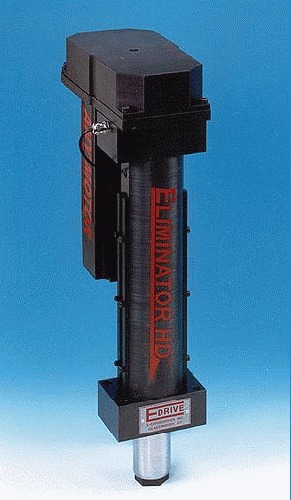 The Eliminator HD™ Heavy Duty Ball Screw Linear Actuator is build with strength and precision; providing 2,000 lbf. to 24,000 lbf, within four frame sizes. An optional, internal load cell provides users with a clean, simple, rugged, and economical capability to continuously monitor axial force.
The Eliminator HD™ Heavy Duty ball screw linear actuator series was developed to provide a strong, durable, and precise ball screw linear actuator for high-end applications. As an alternative to hydraulic actuators, it eliminates many of the associated concerns, such as noise, heat, leakage, controllability, and low stiffness, while handling high loads at high speeds and maintaining the rugged and durable steel construction typical of hydraulics.
The heavy wall steel construction and high dynamic capacity components ensure longevity and durability for production processes. Bearing press, component insertion, and product testing, are typical applications where this would be useful. As a sealed assembly, it is far less susceptible to contamination and physical damage than individual drive components.
E•DRIVE Design, Incorporated has shown consistent success in the toughest applications, e.g. High loads, high speeds, high precision, and extreme durability. Precision ball screw systems, tailored for maximum life, load and speed, provide the motion while fully enclosed, thus eliminating contamination related failures. A long bronze nose bearing provides support for the extended piston. Rugged bronze keys in opposing steel slots provide anti-rotation and counter the tangential forces created during high speed, high frequency, and high load operation.
While other actuator designs force a particular motor decision, the Eliminator HD™ is designed to suit virtually any motor, gear box, or gear head the customer chooses to use. In-line as well as parallel offset configurations are standard with 1:1 and 2:1 synchronous gear belt ratios available.
Dual, nonferrous dovetail switch tracks provide a simple method of placing and adjusting switches for over travel protection as well as "home" detection. Hall effect type limit switches are available.
Machine tool principals and guidelines ensure robust sizing of all components. Traditional front flange, bottom, foot, and trunnion mounting capabilities are available for the standard price.
---