Humidity/Temperature Transmitter up to 120°C
Product Announcement from E+E Elektronik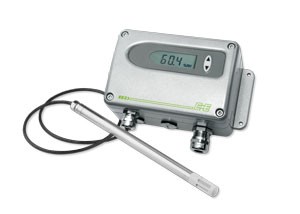 Most modern technique guarantees highest accuracy
A high-quality capacitive E+E humidity sensor and best on it co-ordinated microprocessor electronics guarantee most exact results of measurement. Best long-term stability with smallest hysteresis and the excellent stability against chemical influences make the EE23-transmitter the first choice for almost any application of measuring humidity. Also the user can configure humidity and temperature output easily. The usual output voltages and currents are adjustable. There are also transmitters with passive temperature sensors available.
Innovative modular housing
The three-modules housing of the EE23-transmitter series offers lots of advantages in practical handling. It consists of bottom, middle module and cover. The bottom accommodates the connectors and the alarm output. In the middle module are the electronics and the sensor unit. The cover is supplied on use of the optional display with sight. The three-modules housing enables simple installation and in the case of service an uncomplicated quick exchange to the sensor unit. The EE23 can be used by selection of the suitable housing combination practically for any application. For example there are models available dedicated for wall or duct mounting, with a remote sensing probe for a temperature range up to 120°C, with rear cable outlets for clean room applications and for outdoor applications with a optional radiation shield.
Uncomplicated 2-point field adjustment
The three-modules housing of the EE23 enables a fast and simple calibration. A on sight calibration of the entire measuring loop without measuring interruption can be executed with the help of a dampness generator (e.g. the highly exact HUMOR10S of E+E Elektronik). By means of a simple routine it is possible to perform a 2-point and also a 1-point humidity adjustment. A time-consuming disassembly of the transmitter is not necessary any longer.
Typical applications EE23
High end HVAC
Climate chambers
Process technology
Dryers
Clean rooms
Green houses
Stocks

---