Concentric Encoders
Product Announcement from ELMA Electronic Inc.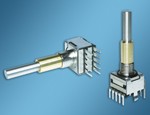 Elma Electronic, a leading designer and manufacturer of rotary components and electronic packaging products, now offers a push-button option for its concentric encoders.
The push-button feature on the concentric encoder helps save the space of employing another switch. The button can be used for on/off, for a menu selector, or various other options. The life of the push-button is 200,000 actuations minimum and has an activation force of 6N (+/- 30%).
Elma's concentric encoders have a rotational life of up to 1,000,000 revolutions. They feature an excellent indexing feel with 0.5, 1.5, 2.0 or 2.5 Ncm switching torque that remains consistent over the encoder's life. Utilizing superior design techniques, gold plated contacts; and robust metal housing with metal shafts, Elma's switches provide the utmost in reliability and longevity. Other encoder features include optional IP68 front panel sealing; an operating temperature range of -40 to +85°C, and a wide range of customization options.
Elma also offers concentric-style switches hex or gray coded outputs. For more information on Elma's concentric encoders, please contact Mark Thorsell at 510-683-8428.
About Elma Electronic
Elma Electronic Inc. is a leading manufacturer and supplier of enclosures, backplanes, cabinets, cases, and "ready-to-run" packaging for CPCI, Rugged COTS, VME/64x, VXI, PC and custom bus structures. Elma's component product line offers a wide selection of top quality switches knobs and LED arrays. The company has been a worldwide supplier of dependable, high performance products for over 35 years. Elma operates three facilities in the continental United States plus has locations in Switzerland, Germany, France, the United Kingdom and Israel.
Elma Electronic Inc. is located at 44350 Grimmer Blvd., Fremont, CA 94538 USA. Telephone (510) 656-3400 - Fax (510) 656-3783. www.elma.com
---