Optima announces mobile shelter cabinet enclosure
Product Announcement from ELMA Electronic Inc.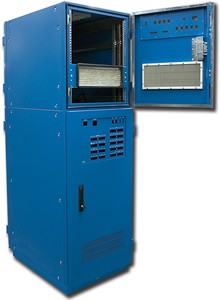 Optima EPS, an Elma Company, a leading designer and manufacturer of cabinet enclosures, has announced a new cabinet enclosure for airborne communications, mobile applications or seismic zones.
Based on Optima's M-series for Seismic Zone 4 applications, the Mobile Shelter features double-walled extrusions for a rugged, modular design. The first unit was built in a stacked formation with 38U on the bottom and a smaller 12U enclosure on the top. The shelter was placed on a isolator platform for additional protection while mobile. All of Optima's M-series cabinets also feature reinforced corner members, cross-bracing, and stiffeners to handle rugged applications. The M-series has passed MIL-STD-810F for shock and vibration. The enclosure is also designed and tested to withstand an earthquake Seismic Zone 4 event as defined in GR-63-CORE without displaying any permanent set or deformation to impair performance or operation.
A wide range of accessories, colors, and custom options are available for Optima's cabinets. The company also offers transit rack cases, command consoles, and desks for rugged applications.
Lead time is 2-4 weeks ARO.
---