Wall-mount Enclosures
Product Announcement from ELMA Electronic Inc.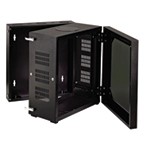 Optima EPS, an Elma Company, a leading designer and manufacturer of cabinet enclosures, offers wall-mount enclosures in various sizes and configurations.
Optima's W Series of wall mount enclosures come in several configurations, including sizes, colors, hinging styles, EMC-levels, and mounting options. The standard size of the steel enclosures is 12U, 20U, and 26U. Other sizes are available upon request. The universal hinge allows the mounting to accommodate right or left side opening. Other key features include cable access ports, adjustable 19" mounting rails, depths in 14" and 20", and front and rear key locks.
The versatile W Series come in solid walled enclosures or vented sides with a 250 CFM exhaust fan standard. Options include cantilevered shelves, busbars, power strips, cable management, and filler panels. Optima offers six standard paint or powder coat colors with custom options. The panel doors come in Plexiglas or solid styles. Contact Optima for NEMA and customization options.
Optima also offers a wide selection of cabinet enclosures, racks, and desktop/portable enclosures. Contact Ron Hall at 770-496-4000 for more information on Optima's wall-mount and other cabinet/enclosure products.
About Optima, An Elma Company
Optima EPS has been designing, manufacturing, and distributing quality electronic enclosures, enclosure systems, server racks, cabinets, security consoles, vertical racks, and telecom enclosures since its founding by Scientific-Atlanta, Inc. in 1962. In 1986, Optima joined Gichner Systems Group (Dallastown, PA), one of the world's leading manufacturers of transportable military shelter systems. As of April 1, 2004 Optima was acquired by Elma Electronic Inc. Today, Optima serves leading electronic and communications OEMs throughout North America from its headquarters near Atlanta, Georgia. The highly-engineered products, whether custom, modified-standard or standard designs, are manufactured to meet customer specifications. They are also distinguished by an extruded aluminum construction offering a high strength-to-weight ratio and a contemporary appearance. www.optimaeps.com
---