Bending or End Forming Tooling Equipment
Product Announcement from ELT Tooling, Inc.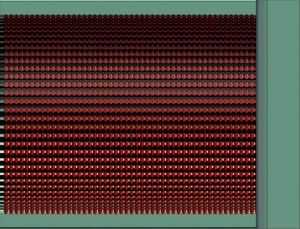 Did you know that there are a lot of options when it comes to gripping surfaces on bend tooling clamp dies?
The biggest problem in rotary draw bending is wrinkles in the bend or tube breakage. This is normally caused by clamp slippage. There can be many reasons for clamp slippage. Some of them are; clamp die not tight enough or not enough pressure, too much pressure die pressure, mandrel drag, worn tools, carriage drag, clamp die being too short for the application, etc. etc. The list goes on and on.

One of the ways to help with clamp slippage is to add a gripping surface to the clamp die. Also, we add gripping surface to the pressure die which will also help push the tube around the bend if the bender is equipment with a pressure die assist option. Listed below are some of the common grip surfaces that we offer: One thing to remember and to be aware of is all gripping surfaces will cause some marking on the tube.

Surfalloy: The Surfalloy process is an electronically controlled micro-arc welding process which bonds tungsten carbide uniformly to a substrate surface. We offer this in (6) grades depending on how coarse we want the gripping to be. This is a low cost solution that we do in house.

Carbinite: Carbinite is a tungsten alloy coating that can be applied to most metals thru electrofusion. The Carbinite process not only increases the surface friction but also increases the surface hardness up to 72Rc. We offer this process in 5 different grades to fit the customer's application.


Flame Spray: The Plasma Spray Process is basically the spraying of molten or heat softened material onto a surface to provide a coating. Material in the form of powder is injected into a very high temperature plasma flame, where it is rapidly heated and accelerated to a high velocity. The hot material impacts on the substrate surface and rapidly cools forming a coating. This plasma spray process carried out correctly is called a "cold process" (relative to the substrate material being coated) as the substrate temperature can be kept low during processing avoiding damage, metallurgical changes and distortion to the substrate material.
The thermal spraying can provide thick coatings (approx. thickness range is 20 micrometers to several mm based on the application requirements.) This option costs more and we have to send it out for this application. We also offer this in (6) grades of coarseness.

Ultra Fine Serrations: This is used when you are trying to keep the marking as minimal as possible but adding a small amount of extra gripping. We rarely use this option any more.

Fine Serrations: This is our most common type of gripping option that we offer. It helps grip very well and the marking is relatively minimal.

Medium Serrations: We offer this option when the bent tube is non cosmetic and the grip length is much shorter that the application requires.

Coarse Serrations: Is the same as the Medium serrations, only more aggressive.

Knurl Finish: We offer a few different patterns of Knurls. The Knurl finish is normally used in very high production environments. Mostly for bending automotive exhaust products.
Please contact us for more information.
---