Bend-it Equipment for Bending Exhaust Pipes
Product Announcement from ELT Tooling, Inc.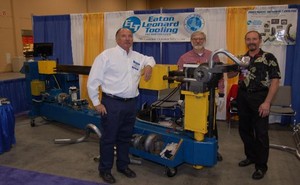 The Bend-it is a bender that was specifically designed to bend automotive exhaust and tail pipes. These sizes are typically 1 ½" - 3.0" in outside diameter. The typical center line radius that the Bend-It utilizes is 1.75D. The typical muffler shop manual bender can only bend 2D before wrinkling or excessive marking occurs. A big advantage that this tighter radius bending capability will provide is more flexibility with the routing of the pipe.
THE QUALITY OF THE BENDS THAT ARE PRODUCED IS EXCEPTIONAL.
The Bend-It also does an outstanding job bending stainless tubing. The new control that was designed specifically for the Bend-It utilizes state of the art electronics. It incorporates a self-diagnostic program to test practically every portion of the machine.
There are approximately 1,000 pre-programmed part numbers available for purchase. They are categorized by Walker's part numbers. The machine is also programmable. The control will accept Bend Data Card format. The control also has a design mode for copies existing pipes. The operation of the machine is very easy to learn. A new operator should be able to operate the bender with just a few hours of training. Optional tooling is available.
---