ELT can provide Quick Change Mandrel Adapters
Product Announcement from ELT Tooling, Inc.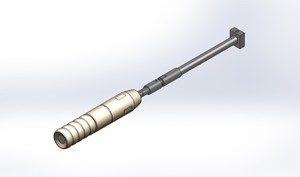 Have you ever thought of how long it actually takes to install or remove a mandrel assembly? Conventionally, each time you change a mandrel you have to spin the exiting one off and spin on the one required. (Approx. 20 revolutions.) How about the mess? How about the ergonomics? Especially on larger sizes. (3 inches or more).
This Quick Change Mandrel Adapter assembly can eliminate all of these issues. The mandrel is installed using a drop in key way system instead of conventional threads. This reduces the set up time for a mandrel to practically nil. One Mandrel Rod Adapter is required per each mandrel rod and each mandrel requires its own Receiver.
Please contact us directly if you have any specific questions regarding this article.
We would really appreciate the opportunity to review your bending or end forming tooling or equipment requirements. Please contact us at 800.254.8665. Or visit our web site at www.elttooling.com .
---