Product Announcement from E-Labs, Inc.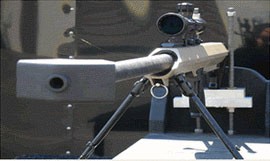 E-Labs has an extensive background in the development and testing of Less Than Lethal (LTL) devices. They were the first to develop a measuring system to capture blunt force or impulse of a round in real time. The Ballistic Impulse Measuring System (BIMS) developed by E-Labs was used on USMC programs to evaluate LTL rounds and compare impulses on a one to one basis.
Features
Velocity measurement.
Trajectory verification, distance verification.
OC spray performance characterization.
Fragmentation mapping.
High speed camera to 8,000 frames per second.
Light output phototropic.
Light plume size.
Sound output.
Fire susceptibility.
12 guage and 40 mm projectile characterization.
Flash bang and diversionary characterization.
You have successfully added from to your part list.
---