Product Announcement from EMX Industries, Inc.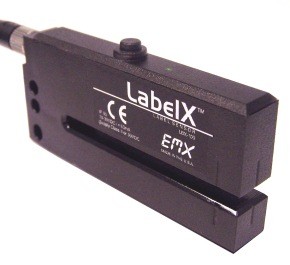 The LabelX Label Sensor combines small spot size and fast response for high-speed label detection. LabelX detects a wide variety of adhesive labels on many different types of web backings by differentiating between the gap and the label. The sensor's fast response provides precise spatial resolution of the label edge. The Teach Key makes this label sensor fast and easy to use.
Choose from two models. The LBX-50 Label Sensor is the right choice for standard and low contrast labels. In Teach-Standard mode, one press of the Teach Key sets the switching point for standard labels. In Teach-Thin mode, two presses set the switching point for low contrast labels.
The LBX-100 Label Sensor provides higher sensitivity for nearly clear labels. In addition to Teach-Standard and Teach-Thin, the LBX-100 also provides Custom Teach-In. Custom Teach-in records a separate measurement on the gap and on the label to allow for optimal detection of difficult labels.
Discrete output that can be connected for NPN and PNP operation.
A PLC can be used to monitor the status of the discrete output signal indicating label or gap presence as required.
Status LEDs provide visual indication of teach and error conditions.
Key lock mode is available to lock the Teach key.
Remote teach input is provided.
Light-ON / Dark-ON functionality is provided via the wiring connections.
M8 connector
You have successfully added from to your part list.

Play LBX-50 Label Sensor Video
---