NEW Enerpac QuickFace FF120 Flange Facing Tool
Product Announcement from ENERPAC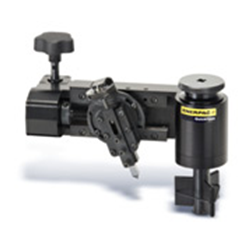 The QuickFace FF120 is a hand operated machine tool designed to redress flange faces in position. Several features make this tool indispensible for a flange maintenance crew's tool box. First, it requires no power - it is hand operated. This relieves the end user from having to run power, air or hydraulic lines and eliminates the need for generators, compressors or pumps. Second, it is compact and light weight (tool weight of 15 lbs or 6.8 kg) so a single person can carry it into position and set it up in less than a minute making the user more efficient and productive. Third, it comes with an adjustable set of collets so that it fits into pipes that are 1" to 6" (25.4mm to 152.4mm) in diameter and can cut a flange face from 1" to 12" (25.4mm to 304.8mm) diameter, giving the user a tool that can take many jobs where cumbersome and expensive tools have been needed in the past. Fourth, because it is a cold work machine no 'hot' work permits are needed which means a safer work site with no 'hot' work being performed.
Additional benefits:
Rigid body for accurate machining
Fine adjustment cut depth of 0.005" to 0.015" (0.127 - 0.381mm) for precise control of the machining process at all times
Utilizes standard 3/8" (10mm) tool steel (2 included) for easy replacement
Weight: 15 lbs (6.8 kg)
This new product introduction through our partnership with Hydratight is an example of Enerpac's commitment to continuous improvement for our valued partners and customers. We are confident this new tool will strengthen our position as the global leader in Bolting Products and Solutions. If you have any questions regarding this product, please contact your local Territory Manager or Enerpac Customer Service at 1-877-556-4161.
---