NEW Enerpac W22000 Low-Profile Hexagon Wrench
Product Announcement from ENERPAC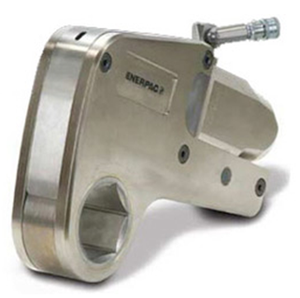 Enerpac is pleased to announce the release of the New W22000 Low-Profile Hexagon Wrench. The launch of the W22000 offers 22,500 ft-lbs (30,510 Nm) of torque and interchangeable cassettes from 2-15/16" to 5-3/8" (75 - 135mm). This robust steel wrench completes the line-up of the W-Series Wrench by closing the gap between the W15000 and W35000. As with all of the W-Series wrenches the W22000 has fewer moving parts so it is more accurate and dependable and outlasts the competition.
• 22,500 Ft-lbs (30.510 Nm) of Torque available at 10,000 psi (700 bar)

• No tools needed for changing the hexagon cassettes

• Nut sizes range from 2-15/16" to 5-3/8" (75 - 135 mm )

• Lifting eye and handle included for assistance in tool movement and placement for safer tool operation

• Nickel-plated drive unit and cassettes for exceptional corrosion protection and improved durability in harsh environments
• Robust design with fewer parts resulting in a more rigid tool, a more accurate application of torque and a longer tool life

• Single 360° hydraulic swivel included or upgrade to a TSP - Pro Series swivel for additional hose maneuverability

• Constant torque output provides high accuracy across the full stroke

• Assortment of Hexagon Reducers are available to economically extend the range of a cassette
Description:
Weight: ~73 lbs. (33 kg)
Availability: December 2011
This new product introduction is another example of Enerpac's commitment to continuous improvement for our valued partners and customers. We are confident this new hydraulic tool will strengthen our position as the global market leader for controlled high-force products and solutions.
---