SAFE LINK Monitoring System
Product Announcement from ENERPAC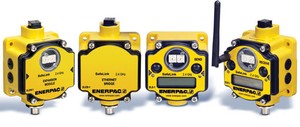 Enerpac introduces the SAFE LINK wireless pressure and clamp position monitoring system for palletized fixtures. The SAFE LINK monitoring system is a world-class wireless solution that monitors fixture pressure and clamp position in real time, even as parts are being machined.
The system can also be used to verify that the operator has properly pressurized the fixture before it is sent inside the machining center. If the fixture pressure or clamp position is lost, the SAFE LINK system prompts the machine control to interrupt the machining process before expensive damage occurs, saving both costs and time for maintenance requirements.
A SAFE LINK SEND unit mounted on the fixture uses a 2.4 GHz radio to communicate with a RECEIVE unit that interfaces with the machine control. Fixture pressure or clamp position is continually monitored. A pressure switch for pressure monitoring or a limit switch for position sensing is typically used with the SEND unit. The RECEIVE unit communicates with the machine control though a standard 24 VDC output or Modbus RTU RS-485 communication protocol. An Ethernet TCP/IP communication option is also available.
"The SAFE LINK monitoring system offers a unique value proposition in its quality and affordability, making it an ideal solution for a wide range of palletized fixture applications," said Al Hamdan, Global Marketing & Engineering Leader at Enerpac. "It's wireless capability and flexibility makes it a logical choice in comparison with other more expensive hard wired systems."
Features of the SAFE LINK system that make it particularly effective and easy to use:
-Fixture mounted SEND unit uses wireless communication to monitor pressure and/or clamp position
-2.4 GHz frequency band for global acceptance
-SEND units are internally powered by a replaceable 3.6 VDC lithium battery, which provides up to 3-year battery life
-SEND units are sealed to IP-67 for protection from contamination and coolant
-SEND units are easily reassigned to a different RECEIVE unit so fixtures can be moved between machines
-No limit to the number of systems used in a production area, accommodating large and diverse applications
-Frequency hopping technology used to for signal stability even in busy production environments
-LED for visual status indication
-LCD display window for set-up and status display
-24 VDC output, Modbus RTU RS-485 and Ethernet TCP/IP options support diverse communication requirements
For further information on the SAFE LINK product call Enerpac at 262-293-1600 or e-mail info@enerpac.com
You have successfully added from to your part list.
---