CADWELD® Cathodic Protection Connections
Product Announcement from ERICO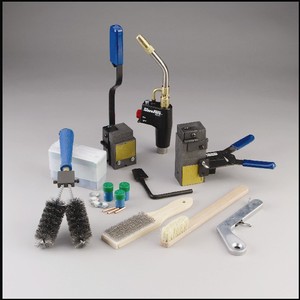 CADWELD® Cathodic Protection Connections
ERICO is the pioneer of the CADWELD® Exothermic Welding Process for permanent Cathodic Protection connections. CADWELD® connections are designed to attach Cathodic Protection leads to pipes (steel or cast iron), tanks and structures. CADWELD connections weld the conductors and the structure to be protected so no galvanic corrosion can occur at the interface. The CADWELD process is specifically formulated to provide minimum heat effect on steel, which is especially important on thin-wall, high-stress pipes. CADWELD connections are also used for header cable taps, conductor splices and terminations, and ground rod connections.
Cathodic connections can be made to steel, cast iron and ground rods. Connections can also be made of cable-to-cable, cable-to-lug and the CADWELD "Punched Strap" bond allows bonding across joints of steel pipe.
CADWELD connections are made with a semi-permanent graphite mold, which holds the conductors to be welded. Welding material (a mixture of copper oxide and aluminum) is poured into the top of the mold. The mold is covered and the welding material ignited. The exothermic reaction produces molten copper, which results in a permanent, high-conductivity connection.
The benefits of CADWELD Connections include:
* The current carrying capacity is equal to that of the conductor
* Permanent, low-resistance connections that cannot loosen or corrode
* Lightweight, inexpensive equipment
* Requires no external source of power or heat
* Requires no special skills
* Can be easily checked for quality
---