CADWELD® PLUS
Product Announcement from ERICO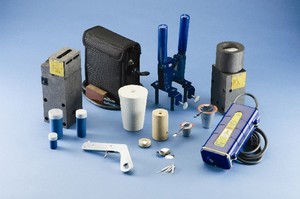 CADWELD® PLUS
Since its development in 1938, CADWELD® electrical connections have been recognized as the ultimate connection for rail, cathodic, power and grounding applications. CADWELD® PLUS is the latest advancement in the continuing evolution of exothermic products from ERICO.
The revolutionary CADWELD® PLUS system is a simplified method of performing exothermically welded electrical connections. The system features an integrated welding material package to streamline the installation process and eliminate ignition materials – reducing set-up time. The tamper-proof package consists of a steel cup containing CADWELD patented welding material alloys and an ignition source. This welding material package is designed for use in all standard CADWELD molds, including CADWELD® MULTI. Once placed in the CADWELD mold, the welding material is electronically ignited using a simple, battery-powered control unit with a 6' lead.
The CADWELD PLUS system offers a variety of benefits, including:
* Withstands repeated fault currents without failing during operation
* Exceeds requirements of IEEE® Std 837- Std. for Qualifying Permanent Connections Used in Substation Grounding
* Joins copper to copper, copper to galvanized or plain steel, copper to copper-clad steel, copper to bronze/brass/stainless steel, steel to steel, and many other combinations
* Current-carrying capacity is equal to or greater than that of the conductor
* Creates a permanent, molecular bond that will not loosen or corrode
* Requires no external power or heat source
* Requires minimal installation training
You have successfully added from to your part list.
---