ERITECH® SYSTEM 3000
Product Announcement from ERICO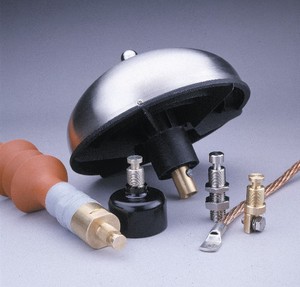 ERITECH® SYSTEM 3000
The highest point of a facility is often the most vulnerable to a direct lightning strike. To minimize business disruption, injury to people and damage to expensive electronic equipment, lightning rods or air terminals are needed to capture the strike to a preferred point and to safely conduct the energy to ground.
The ERITECH® SYSTEM 3000 advanced lightning protection system from ERICO has been used in over 15,000 installations around the world. This technically advanced system allows reliable lightning capture and control through the use of a variety of elements:
* ERITECH® DYNASPHERE air terminal
* ERITECH® ERICORE downconductor
* Lightning event counter
* Purpose-designed, low-impedance grounding system
The ERITECH DYNASPHERE air terminal provides a preferred point for lightning discharges which would otherwise strike and damage an unprotected structure and/or its contents. The ERITECH DYNASPHERE is optimally connected to an ERITECH ERICORE downconductor and low-impedance grounding system in such a way as to provide a totally integrated system.
ERICO has conducted two unprecedented, long-term field-validation studies of the Collection Volume Method (CVM) of lightning protection with the ERITECH SYSTEM 3000 lightning-protection system. The studies showed that the efficient design obtained using the CVM for placing a lightning protection system on ordinary structures does not compromise its performance. They also showed that the observed interception efficiencies in the range of 87% to 92% compared favorably to the IEC protection levels IV (84%) and III (91%).
---