TGB and TMGB Ground Busbars
Product Announcement from ERICO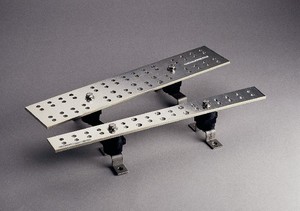 TGB and TMGB Ground Busbars
With today's increasing demand for wireless and cabling network systems, telecommunications grounding and bonding is critical to help ensure proper systems operation and electrical protection. In response to the increase in newer, more sensitive and highly integrated electronic equipment, ERICO offers a comprehensive line of UL® Listed telecommunications main grounding busbar (TMGB) and telecommunications grounding busbar (TGB) to create a grounding and bonding system that goes beyond the basic "green wire" methodology.
The TMGB is the dedicated extension of the building grounding electrode system for the telecommunications infrastructure. As the central attachment point for the telecommunications bonding backbone (TBB) and other equipment, the TMGB provides easy access for personnel.
The TGB centrally connects systems and equipment served by a telecommunications closet. Both the TMGB and the TGB are electro-tin plated to provide superior connections by lowering contact resistance and minimizing requirements for cleaning.
Features of the TMGB and TGB include:
* UL® & cUL® Listed to UL 467 & C22.2 respectively
* Meet TIA/EIA 607 specifications and conform to BICSI recommendations
* Stainless steel brackets and fasteners provide superior corrosion resistance
* Insulated standoffs provide busbar isolation
* Splice plates allow for future expansion or the use of multiple smaller lengths to be used to meet system requirements
---