UTB SP and UTB SPG Universal Transient Barrier
Product Announcement from ERICO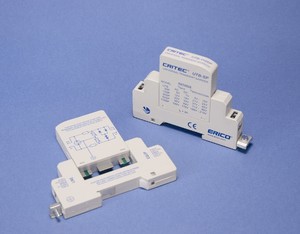 UTB SP and UTB SPG Universal Transient Barrier
ERICO offers the UTB-SP (single pair), a hybrid, multistage clamping circuit to help ensure the best possible protection to sensitive electronic equipment while maintaining a minimum of line interference and insertion loss. The UTB-SPG (single pair - isolated ground) provides isolation between the shield/common return and protective ground at the point of connection.
Features:
* General-purpose barrier protection of low-voltage circuits and transducers
* Separate plug-and-base design; hot-swappable feature allows ease of module replacement
* Multi-stage protection – fine over-voltage protection helps ensure lowest residual surge voltages reach sensitive equipment
* Common-mode and differential-mode protection protects against both possible surge conditions
* Ease of grounding through DIN mounting rail or via terminal
* Surge rating to 20 kA 8/20 μs – ideal for exposed wiring
* Allows for protection 25 analog signals or 50 digital signals per linear foot of DIN rail space
Applications:
The UTB series provides transient protection for equipment from surges induced onto balanced pair signal lines. They are well suited to the protection of industrial equipment such as PLCs and SCADA systems. Other uses include the protection of fire and security alarms, industrial monitoring and control equipment.
---