Gas Spargers
Product Announcement from ERIEZ Flotation Group, formerly Canadian Process Technologies, Inc. (CPT)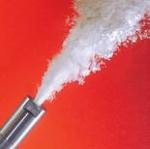 Sparging determines the separation effectiveness of column flotation systems. The key is to generate the right number of bubbles of the right size at the right rate, and CPT spargers do just that in over 5000 worldwide installations.
CPT spargers are designed, engineered and optimized for each application to ensure the generation of the best possible bubble distribution pattern.
Eriez Flotation Group provides spargers for a range of separation applications, including fine and coarse mineral flotation, liquid/liquid separation, oxygen service and air/water mixing duties.
---