Product Announcement from ESTeem Wireless Modems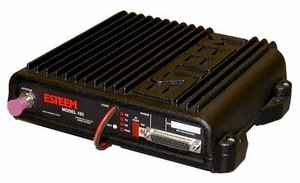 ESTeem wireless modem products provide a "Wireless Solution" by eliminating conventional hard wiring or leased phone lines or cellular costs. The ESTeem Model 192C comes with the industry standard RS-232C, RS-422 and RS-485 asynchronous communications ports to give the user a new dimension to "Wireless Networking". Our packet burst, narrow band, frequency agile, UHF communications products allow the user to create a "Radio Area Network" of up to 255 users on a single frequency. The packet burst communications was chosen to give the system very high data integrity in high noise industrial environments. The ESTeem incorporates forward error correction and 32 bit CRC error checking that provides received data accuracy of greater than one part in 100 million.
Packet Protocols
By using a Carrier-Sensed-Multiple-Access (CSMA) communication protocol no polling station or token is required in the ESTeem network. When an ESTeem has information to send, it will check to see if the channel is clear before transmitting its packet and await an (ACK). The ESTeem is a Master/Master system, meaning any ESTeem can communicate with any other ESTeem
Data Privacy
Transmitted data privacy is insured by the use of an interleaving technique of the modulated data, user definable commands for unit addressing, network addressing, and security lock-out of software programming.
Increased Operating Range
The internal Digi-Repeater feature allows the user to increase operating range by relaying transmissions through a maximum of three ESTeems to reach the destination ESTeem. An ESTeem can operate as an operating node, a repeater node, or both simultaneously for added flexibility.
User Friendly
The ESTeem has over 100 programmable software commands to allow the user to easily configure the unit for any application. The ESTeem setup parameters are saved in non-volatile memory.
Features
Transceiver
450 to 470 MHz UHF operating frequencies
Narrow Band (12.5 and 6.25 KHz) Programmable
Up to 19,200 bps RF Data Rate
Integral Digi-Repeater
Frequency of Operation Software Programmable
Receiver Squelch Software Programmable
Remote Programmability of all features over the RF, Infrared or Phone Interfaces
Radio Diagnostic Programs included
Radio Self-Test
Packet Monitor
Received Signal to Noise Ratio
Received Signal Strength Output

Interfaces
RS-232C, RS-422 and RS-485 communications ports for hardware interfacing
Infrared communication port for Local Programming and Diagnostics

Protocols
Intergral PLC and RTU protocol drivers
Point-to-Point Protocol
Point-to-Multi-Point Protocol
Polled with Report-by-Exception
Contingent Protocol
Transparent Protocol
You have successfully added from to your part list.
---