2-Way, on-off, 3-Way, 4 & 5-Way Plastic Valves
Product Announcement from EVSCO, Inc.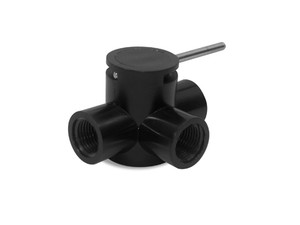 EVSCO the FLOW SOLUTION COMPANY manufactures Elliptic & Elliptomatic Valves as an Alternative to Ball Valves with Superior Performance in Demanding OEM Applications for Manual, Pneumatic or Electric Actuated 2-Way through 5-Way Flow Styles with 1/8" through 2" Porting also Stack Valves with Single Operation of Multiple Valves Inert Polypropylene or PVDF Construction.
ELLIPTIC & ELLIPTOMATIC VALVE SERIES
· 2-Way On/Off, Throttling, Dribble Fill DMC Control
· 2 Position 3-Way Continuous Flow for In-Line Sampling, Flow Diversion, or Bypass
· 3 Position 3-Way Many 3 Port Solutions with Shut-Off
· 4 Position 3-Way 3 Port Multi Flow Solution
· 3-Way Mixing and Proportioning Valves 1 Inlet to 2 Outlets or 2 Inlets to 1 Outlet
· 4-Way Valves Crossover Solutions and Selector Styles
· 5-Way Bottom Entry Selector and Multi Flow Solutions
· Stack Valves Operate Multi Valves with one Actuation, Manual, Electric or Air
· Flow Solutions Guide Available for review or engineering discussions
· Electric Actuation All Voltages, Reversing, Unidirectional and DMC
· Air Actuation Air to Air or Air to Spring (Fail Safe) Proportioning
· Mounting Hardware Mounting Brackets, Arms, Valve Extensions for Panel Mounting
· Fittings Many configurations
EVSCO's Valve use:
Standard and Unique Flow Solutions Available
Superior OEM Performance / Rugged Design Standards
Alternative Solution to the Ball (True Union) Valve
Manual, Electric, or Pneumatic Actuation
2-Way, 3-Way, 4 & 5-Way Valve Systems
Stack Multiple Valves with 1 Actuator / Cost Savings / View "Stack Valve Systems"
Flow Solution Engineering / View "Flow Solutions"
Available in FNPT sizes 1/8", 1/4", 3/8", 1/2", 3/4", 1½", 2"
Full Ported, No Internal Restrictions,
Certifiable FDA Grade Polypropylene or FDA grade PVDF Systems
Government Cage Code Approval
No metal in contact with Liquid
On-Off
Throttling
Proportioning
Flow Diversion
Mixing
Tube Fittings or Hose Fittings
Extended Body Stem (Handle) available for Panel Mounting
Mounting Brackets to capture or support
In-Line Maintenance
All Elliptic and Elliptomatic Valves completely disassemble In-Line. Remove Handle, Slide Valve Apart for cleaning or Maintenance. Reassemble and you're back in operation.
---