3-Way Valves with Electric Actuator
Product Announcement from EVSCO, Inc.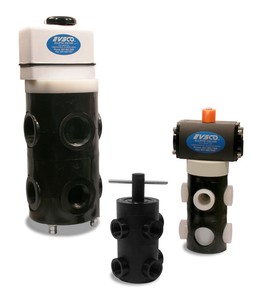 Our new generation of actuated valves is designed to offer more flow solutions than the traditional ball valve. The 2-Way through 5-Way flow styles are full ported without restriction and offer superior flow characteristics and unlike the ball valve has easy inherent In-Line maintenance.
ELLIPTOMATIC SERIES ELECTRIC and PNEUMATIC ACTUATED VALVES
The tough actuator housing is environmentally sealed and coated to outperform in harsh industrial placement. The compact modular design is well suited for aggressive fluid handling in demanding applications.
Inherent fully integrated emergency manual override with visual position indication
· 2-Way On/Off, Throttling, Dribble Fill Position feedback Control Capability
· 2 Position 3-Way Continuous Flow for In-Line Sampling, Flow Diversion, or Bypass
· 3 Position 3-Way Many unidirectional or reversing 3 Port Solutions with or without Shut-Off
· 4 Position 3-Way 3 Port Multi Flow Solution
Position Feedback to Control Capability
· Stack Valves Operate Multi Valves with one Actuation vs. ball valves, Manual, Electric or Pneumatic actuation
· Flexibility in Design - Cost Effective Flow Solutions
· Modular Mounting Hardware Mounting Brackets, Arms, Valve Extensions
Operating Function:
250,000 Life Cycle offers superior maintenance free performance
115 VAC Reversible or Unidirectional Motor - Standard
12 or 24 VDC Reversible or Unidirectional Motor
24 or 230 VAC Reversible or Unidirectional Motor
Cycle Time/90º - 3.5 seconds
Position Feedback and Control Capability available
NEMA VII available
Extra Switches -Field Switch Kits Heaters Thermostats available
EVSCO's Valve use:
· Standard and Unique Flow Solutions Available
· Superior OEM Performance / Rugged Design Standards
· Alternative Solution to the Ball (True Union) Valve
· Manual, Electric, or Pneumatic Actuation
· 2-Way, 3-Way, 4 & 5-Way Valve Systems
· Stack Multiple Valves with 1 Actuator / Cost Savings / View "Stack Valve Systems"
· Flow Solution Engineering / View "Flow Solutions"
· Available in FNPT sizes 1/8", 1/4", 3/8", 1/2", 3/4", 1½", 2"
· Full Ported, No Internal Restrictions,
· Certifiable FDA Grade Polypropylene or FDA grade PVDF Systems
· Government Cage Code Approval
· No metal in contact with Liquid
· On-Off
· Throttling
· Proportioning
· Flow Diversion
· Mixing
· Tube Fittings or Hose Fittings
· Extended Body Stem (Handle) available for Panel Mounting
· Mounting Brackets to capture or support
In-Line Maintenance
All Elliptic and Elliptomatic Valves completely disassemble In-Line. Remove Handle, Slide Valve Apart for cleaning or Maintenance. Reassemble and you're back in operation.
---