Electric Ball Valve Alternative / AC, DC, 4:20ma
Product Announcement from EVSCO, Inc.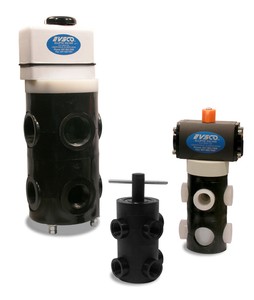 EVSCO the FLOW SOLUTION COMPANY manufactures Elliptic & Elliptomatic Valves as an Alternative to Ball Valves with Superior Performance in Demanding OEM Applications for Manual, Pneumatic or Electric Actuated 2-Way through 5-Way Flow Styles.
Operate Multiple Valves with single actuation, provide space savings and cost advantages.
The Stack Valve System is truly a unique Modular System allowing multiple valves to be operated with one Single Manual, Electric or Pneumatic operation.
The modular concept allows Valves to be Stacked or Coupled in any 90 degree orientation. Orientation, Port Configuration, Flow Style and Port Size offer Hundreds of Flow Solution possibilities.
The economic Stack Valve system is available with the following Elliptic and Elliptomatic Series Valves.
· 2-Way On/Off, Throttling, Dribble Fill Position Feedback Control
· 2 Position 3-Way Continuous Flow for In-Line Sampling, Flow Diversion, or Bypass
· 3 Position 3-Way Many 3 Port Solutions with Shut-Off
· 4 Position 3-Way 3 Port Multi Flow Solution
· 3-Way Mixing and Proportioning Valves 1 Inlet to 2 Outlets or 2 Inlets to 1 Outlet
· 4-Way Valves Crossover Solutions and Selector Styles
· 5-Way Bottom Entry Selector and Multi Flow Solutions
EVSCO's Valve use:
Standard and Unique Flow Solutions Available
Superior OEM Performance / Rugged Design Standards
Alternative Solution to the Ball (True Union) Valve
Manual, Electric, or Pneumatic Actuation
2-Way, 3-Way, 4 & 5-Way Valve Systems
Stack Multiple Valves with 1 Actuator / Cost Savings / View "Stack Valve Systems"
Flow Solution Engineering / View "Flow Solutions"
Available in FNPT sizes 1/8", 1/4", 3/8", 1/2", 3/4", 1½", 2"
Full Ported, No Internal Restrictions,
Certifiable FDA Grade Polypropylene or FDA grade PVDF Systems
Government Cage Code Approval
No metal in contact with Liquid
On-Off
Throttling
Proportioning
Flow Diversion
Mixing
Tube Fittings or Hose Fittings
Extended Body Stem (Handle) available for Panel Mounting
Mounting Brackets to capture or support
In-Line Maintenance
All Elliptic and Elliptomatic Valves completely disassemble In-Line. Remove Handle, Slide Valve Apart for cleaning or Maintenance. Reassemble and you're back in operation.
---