Eliminate static and dust!
Product Announcement from EXAIR Corporation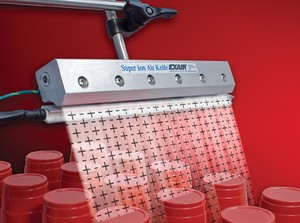 Super Ion Air Knife™
EXAIR's Super Ion Air Knife™ removes static electricity from webs, sheet stock and plastic surfaces where dust, tearing, jamming or hazardous shocks are a problem. The balanced laminar airflow of the Super Ion Air Knife effectively eliminates static at distances up to 20 feet away. Production speeds, product quality and surface cleanliness can improve dramatically. Other styles include Ion Air Cannon, Ion Air Gun, Ion Air Jet, Ionizing Bars and Ionizing Point. Applications include web cleaning, pre-paint blowoff, bag opening and neutralizing plastic parts.

Why The Super Ion Air Knife?
The Super Ion Air Knife floods an area or surface with static eliminating ions - up to 20 feet (6.1m) away. A uniform airflow across its length will not cause misalignments to critical surfaces such as webs. Force can be adjusted from a "blast" to a "breeze". The Super Ion Air Knife is electrically powered, is shockless and has no moving parts. It also requires less than 2 SCFM of compressed air per foot of length at 5 PSIG (57 SLPM per 300mm of length at 0.3 BAR). Sound level is surprisingly quiet at 50 dBA for most applications.
Applications
Web cleaning
Molding machinery
Sheeters and trimmers
Cleaning parts
Pre-paint dust removal
Shrink wrappers
Package cleaning
Printing equipment
Bag opening/fill operations
Advantages
Low air consumption
Uniform airflow across entire length
Quiet
Effective up to 20' (6.1m)
Shockless, non-radioactive
Compact, rugged, easy to install
Variable force and flow
Low maintenance
To See Video Click here:
---