Product Announcement from Eagle Eye Power Solutions, LLC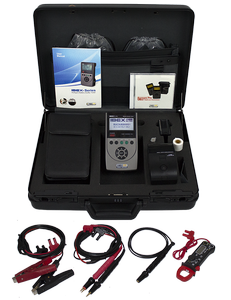 IBEX-ULTRA, is the industry's fastest battery diagnostic tester that can simultaneously measures the ohmic values, voltage & temperature of a battery in approximately 3 seconds. Ensure that your company is testing its stationary batteries per IEEE/NERC/FERC and other industry standards.
The IBEX-ULTRA comes complete with Exmons Battery Management Software which allows the user to trend their batteries, create battery reports, view graphs, export to Excel and much more! The IBEX-ULTRA provides substantial time and cost savings to your preventative maintenance program, while ensuring the integrity of your critical back-up batteries. The IBEX-ULTRA is guaranteed to maximize your battery testing needs.
Accuracy:
-Cell/Jar Voltage: ±0.5 class
-Internal Resistance: ±1.0% rdg. ±8dgt. (in 3 milliohm full-scale) across test range
-Temperature: ±2.0 class (-20°C ~ +80°C)
Measuring Items:
-Voltage: 0.1V ~60V
-Internal Resistance
-Inter-cell Resistance
-Terminal Temperature
The IBEX-ULTRA Sets come complete with:
1. IBEX-ULTRA Body with printable means
2. Li-Ion Battery inside Body
3. Soft Poly-Vinyl Bag with ZERO Adjustable Plate
4. Standard Charger (100 to 240 VAC)
5. 4-Pin type Probe
6. Clip Type Probe
7. Temperature Probe
8. English Users Manual
9. Bundled Software: Serial Comm
10. USB Cable to upload PC
11. Diagnosis Software: Exmons Pro 2008 (Multi-User Environment)
12. Plastic Carrying Case (450×340x120)
13. Shunt (50mV/50A, 1mΩ, 1.0 Class)
14. Spare 4-Pin Tip
15. Spare Li-ion Battery
16. IR Thermal Printer
17. Paper Roll for IR Printer
18. 220V AC Standard Charger for IR Printer
19. Spare Paper Roll for IR Printer
20. DC Clamp Meter to measure a ripple current %
- Qualified Meets all IEEE Standards for Stationary Battery Testing- CE Compliant
- Precise: Adopting the World's first ripple-removing algorithm (PAT No.0494489)
- Fast: Automatic Measurement in 4 Seconds
- Intuitive: Includes Battery Management Software for Trending and Record Keeping.
Visit www.eepowersolutions.com for a complete preview of all the quality products we offer. EEPS is your #1 source for Resistance Testers, Digital Hydrometers, Battery Monitoring and Load Banks.
You have successfully added from to your part list.
---